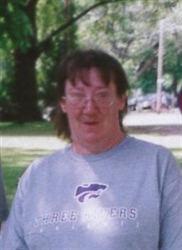 Cynthia Susan Wayne, age 59, of Three Rivers passed away on Monday, April 11, 2016 at Borgess Medical Center.  She was born on July 30, 1956 in Three Rivers the daughter of Kenneth and Molly (McKee) Wayne.
Cynthia graduated from Three Rivers High School in 1978.  She was employed as a nurse aide at Fairview Living Center, Thurston Woods Village, and Miller's Merry Manor of Lagrange.  She was also a member of Ninth Street United Methodist Church.  In her spare time, Cynthia enjoyed crocheting blankets.
She was preceded in death by her father, Kenneth Wayne, her partner of 20 years Ronald Coburn; and brothers, Michael and John Wayne.
Cynthia is survived by her mother Molly McCoy of Three rivers; daughter, Diane Coy of Three Rivers; son. David Wayne of Three Rivers; brothers, Robert (Julie) Wayne of Three Rivers and Steve (Debra) Wayne of Greenfield, WI.
In accordance with family wishes cremation will be conducted and a memorial service will be held at 5:00 p.m. on Friday, April 15, 2016 at Hohner Funeral Home with Pastor Thoreau May of West Mendon United Methodist Church officiating.
Memorial donations may be directed to Ninth Street Methodist Church. Envelopes available at Hohner Funeral Home in care of arrangements.