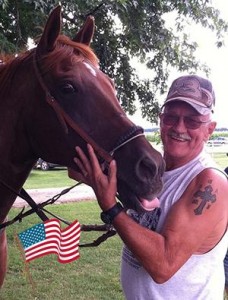 Larry D. Vaughn, 70, of Clearwater, Fla., formerly of Sturgis, went home to be with the Lord and loved ones who preceded him on April 18, 2016.
He was born in Three Rivers the son of the late Russell D. and Ruth D. (Minnick) Vaughn on June 22, 1945. He was preceded in death by five brothers, Lyle, Pat, Jack, John and Bill; five sisters, AnnaBelle Bowdish-Culbertson-Diehl, Mary (Mick) Tatur-Clark, Vera Hart-Strong, Jean York and Bessie Perrin; a niece, two nephews, a great-nephew and a great-niece.
Larry was a graduate of Colon High School and a combat veteran in the United States Army. He served in Germany and Vietnam and obtained the rank of Specialist 5. He retired from Abbott Laboratories in 1997 after 20 years of service. After retirement he worked part time as court security with St. Joseph County. Then he served as a juvenile officer with both Cass and St. Joseph County Family Courts for the next 10 years.
Larry was a past member of New Beginnings Church, Sturgis, and a proud lifetime member of the following organizations: Veterans of Foreign Wars, The American Legion, National Fraternal Order of Police, St. Joseph County Sheriff's Mounted Division, Michigan Sheriff's Mounted Assoc., and the St Joseph County Horsemans Assoc. He was also a member of the Disabled American Veterans.
*Larry loved the Lord, family, and country. He rode, trained, and contested horses for over 60 years, enjoyed working part time as a deputy sheriff, meeting new people, and seeing old friends while working security at the St. Joseph Co. Grange Fair for 34 consecutive years. He was a Nascar fan and enjoyed playing billiards.
Throughout his life, Larry touched many lives. It was common for him to help family and friends without expecting anything in return. From lending a hand to a friend to helping family members during a financial bind, Larry gave of himself willingly with a big heart. Many in the family turned to him in times of crisis, and he will be remembered for his generosity.
Larry will be dearly missed by many, but the lessons he taught will live on in the lives of his children, grandchildren, nieces and nephews, and the troubled teens he mentored as a juvenile officer. He had a tough outer shell but was a soft soul who cared deeply as he pondered for those he loved and cared about. He was a silent hero to many.
Surviving is the love of his life, Valerie (Twiford). They were married in Three Rivers and lived primarily in St. Joseph County before retiring to Clearwater, Fla. They would have celebrated 44 years of marriage May 13. Also surviving is his ex-wife, Janie Lantz, who remained a close friend, LaGrange, Ind.; two daughters, Debra (Lee) Evans of Wolcottville, Ind. and Heidi (Ron) Sisco of LaGrange, Ind.; two grandsons, Jackson and Austin Evans of Wolcottville, Ind.; three granddaughters, Caitlynn Justis of White Pigeon, and Morgan and Valerie Sisco of LaGrange, Ind.; three great-granddaughters, Emmalee, Rylee and Madilynn of White Pigeon; one sister, Rea (Richard) Leer of Apache Junction, Ariz. and Marcellus; brother-in-law, Larry (LaDonna) Perrin of Sturgis and Clearwater, Fla.; two sisters-in-law, Janice Vaughn of Sherwood and Mary Alice Vaughn of Tupelo, Miss.; several nieces and nephews. He is also survived by his best friend and brother by choice, Richard Villareal of Valrico, Fla.
There will be no services, and cremation has already taken place. In lieu of flowers or memorials, the family asks that those wishing to honor Larry do so by helping someone in need and always remembering that "Life is good."
The obituary is also at www.hackmanfamilyfuneralhomes.com where personal messages of support may be left for the family.