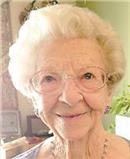 Marian E. Pilipick, 101, passed away Dec. 10, 2015, in Bakersfield, Calif.
Inurnment and celebration of Marian's life will be held at 11 a.m. Saturday, April 16, 2016, at Lakeside Cemetery in Colon.
In case of inclement weather, the service will be held at Schipper Funeral Home.
In lieu of flowers, memorials may be sent to Colon Fire and Rescue Department, Colon, MI 49040.