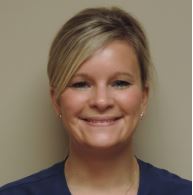 THREE RIVERS, MI – Three Rivers Health is proud to announce
Tarah Gidley, RN, as recipient of the Southwestern Michigan Perinatal
Association (SWMPA) Perinatal Excellence Award.
Tarah was nominated by a co-worker for her positive attitude, excellent
care, and being a great role model for all nurses. Tarah has been
with Three Rivers Health for four years and works in the Obstetrics
Department.
"Tarah demonstrates an outstanding commitment and contribution to the
mothers, babies and families in her care," said Chief Executive Officer
William Russell. "We are proud to see her recognized in this way."
Tarah will be honored on Wednesday, May 25, in Kalamazoo at the
SWMPA Spring Conference.
For over 90 years, Three Rivers Health has offered its patients and
community technology-driven care, including a wide array of inpatient,
rehabilitation, outpatient, wellness, hospice care and specialty
clinic services. To discover more about Three Rivers Health, call
269.278.1145 or visit threerivershealth.org.