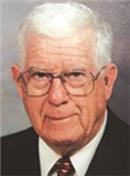 Burr Decker, 88, a resident of Colon for 86 of his 88 years of life, entered into eternal rest at Gulfside Hospice in Zephyrhills, Fla.
Burr's happiest moments were in the presence of his wife of 66 years, Virginia (French).
Burr was a simple, principled man who loved the outdoors and greatly enjoyed golfing with friends both in Colon and also at their winter home in Zephyrhills.
A memorial service will be held at 11 a.m. May 28 at Schipper Funeral Home in Colon, with visitation from 10-11 a.m.