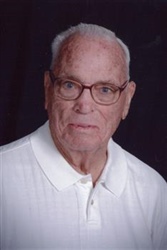 Francis "Gene" Eugene Geegan, age 89, of Three Rivers passed away on Saturday , May 14, 2016 surrounded by his family at Heartland Healthcare Center. He was born in Melvin, IL on May 1, 1927 the son of Michael W. and Myrtle E. (Foreman) Geegan.
Francis enjoyed fixing things, and working in his yard. He took great pride in his family and enjoyed camping and playing bingo at COA. He worked for many years in the grocery business, retiring from Village Market in 1995.
Francis was preceded in death by his parents, infant son Michael Eugene, and two brothers and four sisters.
Francis is survived by his wife of 65 years, Charlotte (Smith) Geegan; daughters, Diane (Don) Brunner, Jr; Linda (Jeff) Withers, Joyce Swihart, Karen(Chuck Grimes) and Regena Geegan; grandchildren; Don (Rhonda) Brunner III, Daniel (Erin) Brunner, Dustin Brunner, Jennifer (Bob) Miller, Amy (Jason) Gilde, Jessica (Brent) Lawler, Jackie (Victor) Ridley, Jim Grimes, and Todd Grimes; great grandchildren, Dalton and Tyler Brunner, Haven and Zack Miller, Michael and Matthew Lawler, and Illyana Ridley.
The family will receive friends from 5:00 p.m. – 7:00 p.m. on Tuesday, May 17, 2016 at Hohner Funeral Home with Rosary Services beginning at 6:30 p.m.
A Mass of Christian Burial will be held at 11:00 a.m. on Wednesday, May 18, 2016 at Immaculate Conception Catholic Church of Three Rivers with Fr. Antony Rajesh as celebrant.
Cremation will be conducted following services.
Memorial donations may be directed Heartland Hospice. Envelopes available at Hohner Funeral Home in care of arrangements.
Online condolences may be left for the family at www.hohnerfh.com.