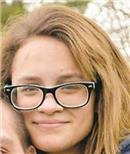 Michal Charity Webb, age 20, of Sturgis, passed away Thursday, May 12, 2016, at Bronson Methodist Hospital in Kalamazoo, due to injuries sustained in a pedestrian-automobile accident.
She was born March 20, 1996, in LaGrange, Ind. She is the daughter of Leah and Angelo Campos and Landon and Jessie Adams.
Michal was a lifelong Sturgis resident and a graduate of Sturgis High School with the class of 2015.
Michal was engaged to Adam Stambaugh and the couple planned to be married July 16, 2016.
She had been employed by Wal-Mart in Sturgis for two years and was a associated with Kingdom Hall of Jehovah's Witnesses in Sturgis.
Michal enjoyed many hours of watching movies with Adam, shopping with her Mom and grandmother and had a true affection for animals, especially her dog Bruno, who also was lost in the accident. She loved time spent with her family and friends. Her genuine care for others and her good-heartedness will be missed by all who knew her.
She is survived by her parents, Leah and Angelo Campos of Sturgis, and Landon and Jessie Adams of White Pigeon; three sisters, Nyah Campos, Courtney Knight and Olivia Adams; five brothers, Jeshua Campos, Evan Campos, Aiden Adams, Xavier Adams and Isaac Adams; grandparents Gatt and Sharon Webb of Sturgis, Cindy Lantz of Sturgis, Dennis and Nancy Dixon of Manistique and Eugenio and Petra Campos of Mexico; great-grandparents Ilene Nusbaum of Sturgis and Ralph and Shirley Adams of Sturgis; and many aunts, uncles and cousin.
She was preceded in death by her grandfather, Duane Adams.
In accordance with family wishes, cremation has taken place. The family will receive friends from noon-2 p.m. Saturday, May 21, at the Rosenberg Chapel of Hackman Family Funeral Homes, 807 E. Chicago Road, Sturgis.
A memorial service will be held at 2 p.m. Saturday, May 21, at the funeral home. Brother James Strang will officiate.
The family suggests those wishing to make a memorial donation in Michal's memory consider Children's Tumor Foundation, 120 Wall Street, 16th Floor, New York, NY 10005-3904.
Her obituary is also at www.hackmanfamilyfuneralhomes.com, where personal messages of support may be left for the family.