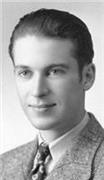 Dr. Donald E. Bradley, age 93, of Colon, passed away Friday, July 8, 2016, at the Birch Adult Foster Care Home in Leonidas.
Don was born June 4, 1923, in Virden, Manitoba, Canada, a son to the late Dr. John W. and Marion Ellen (Barton) Bradley.
Don received his early education in Virden and enlisted in the Royal Canadian Air Force in 1942. He served as a pilot in Canada, England and the Isle of Man until July 1945.
On May 19, 1947, he married Eileen Pickthall in Virden, Manitoba, Canada.
Following the war he received his medical education at the University of Manitoba Medical School from 1945 to 1952. He practiced at Reston, Manitoba for 4 years and in 1956 came to Michigan. After a year of post graduate training, he moved to Colon in 1957. He practiced in Colon with Dr. Robert D. Smith from October of 1957 to January of 1986, retiring at that time.
He was a member of Sturgis Hospital medical staff, St. Joseph County Medical Society, Michigan State Medical Society, Michigan Academy of Family Physicians, life member of the American Academy of Family Physicians and a life member of the Colon Masonic Lodge #73 F&AM.
He is survived by his wife Eileen Bradley of Colon; four children, Barry D. Bradley of Colon, Glenn S. (Pam) Bradley of Lawton, Anne-Marie (Mike) Woodruff of Colon and John T. Bradley of Colon; two grandchildren; Abby and Teresa Bradley; three great-grandchildren, Jessica, Rebecca and Caitlin Beal and five great-great-grandchildren.
Besides his parents, he was preceded in death by one brother, Gordon; and one sister, Ellen.
Cremation has taken place. A memorial service celebrating the life Dr. Donald Bradley will be announced at a later date.