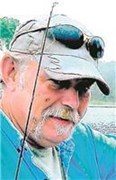 Jimmy Berlin "JB" Whitt, age 55, of Sturgis, passed away peacefully Sunday, July 10, 2016, at Bronson Methodist Hospital in Kalamazoo, surrounded by his loving family.
JB was born Aug. 21, 1960, in Morehead, Ky., a son of the late Berlin and Thelma (Winkleman) Whitt.
He moved to Sturgis as a child and was a lifelong resident. On Aug.13, 1990, he married Donna Rose in Cassopolis.
He enjoyed hunting with his family, ripping a lip with his boy, or as we call it, "fishing," taking care of his farm with his wife and spending time with his grandchildren.
JB was a hardworking man with an infectious laugh and one-of-a-kind personality. He will truly be missed by all who knew him.
Surviving are his wife: Donna; a son, Joshua (Carrie) Rose; a daughter, Cassandra (Justin) Hepner; five grandchildren; brothers Larry (Beverly) Whitt of Kentucky, Steve (Deena) Whitt of Burr Oak, Emmanuel (Alissa) Stamper of Illinois and Joe (Sandy) Stamper of Sturgis; a sister, Teresa (Mark) Haley of Ohio; and several nieces and nephews.
He was preceded in death by his parents; a sister, Retha Whitt Plesant; and two infant brothers.
The family will receive friends and relatives from 2-4 p.m. and 6-8 p.m. Thursday at the Rosenberg Chapel of Hackman Family Funeral Homes, 807 E. Chicago Road, Sturgis.
Services celebrating the life of Jimmy "JB" Whitt will be held at 1 p.m. Friday at the funeral home, with Pastor Jeff Farnham officiating.
Interment and graveside services will follow in Mottville Township Cemetery.
Memorial donations may be directed to the funeral home.
His obituary is also at www.hackmanfamilyfuneralhome.com, where personal messages of support may be left for the family.