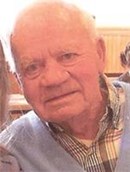 Arthur E. (Bud) West, age 91, of Colon, passed away Monday, Aug. 29, 2016, at his home, surrounded by his family.
Bud was born Sept. 25, 1924, in Colon, a son to the late Lawrence and Sarah (Slagle) West.
He had made his home in Colon all his life, graduating from Colon High School with the class of 1942. Bud served in the U.S. Navy during World War II, serving in the North Atlantic on a submarine chaser and South Pacific on a mine sweeper. He was honorably discharged Oct. 1, 1945.
On March 8, 1944, he married Nancy Murphy in Three Rivers.
Bud had worked as a woodworker in the manufacturing department for 50-plus years for Abbott's Magic Company in Colon. He was a 55-year member of Colon American Legion Post #454.
Bud enjoyed fishing.
He is survived by his wife of 72 years, Nancy West of Colon; a son, Patrick (Rolene) West of Colon; 12 grandchildren; 30 great-grandchildren; and several nieces and nephews.
He was preceded in death by two sons, David and James West; two brothers, Jack and Paul (Buff) West; and two infant great-granddaughters, Lyndsay and Leah West.
The family will receive relatives and friends from 6-8 p.m. Wednesday at Schipper Funeral Home in Colon.
Funeral services celebrating the life of Arthur (Bud) West will be at 11 a.m. Thursday, Sept. 1, 2016, at the funeral home, with Pastor John West and Rev. David J. Farrell officiating. Burial will follow at Sherwood Cemetery in Sherwood, with military honors conferred by Colon American Legion Post #454.
If desired, the family suggests memorials be made in memory of Bud to the Colon American Legion Christmas Fund. Envelopes are available at the funeral home.