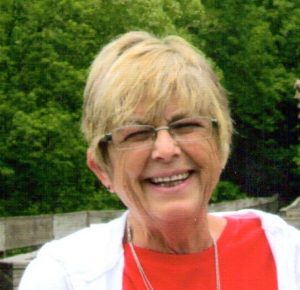 Cheryl A. Bradford, age 61, of Mottville, passed away on Saturday, August 20, 2016 in Traverse City. Cheryl was born February 28, 1955 in Elkhart, a daughter of Max and Clara (Akin) Burkey. She graduated from Constantine High School in 1973. On October 12, 1974 Cheryl married Howard E. Bradford in Pacific Grove, CA. She enjoyed camping, fishing, dune buggy's and boating, and was a NASCAR fan.
Surviving are her husband Howard Edward Bradford, Mottville, son Jerod (Kassandra) Bradford, Three Rivers, grandson Cayden Bradford, Three Rivers, brother Eugene (Brenda) Burkey, Mottville, sister Karla (Jim Jr.) Sweat, Constantine, special friends Connie (Roger) Young, Alabama, Camila (Eric) Gibson, Alabama, Donna Aikin, Ft. Wayne, Nona Vogelzang, Goshen, and several nieces and nephews. She was preceded in death by her parents.
Relatives and friends will be received Wednesday from 2-4 and 6-8 pm at Eley Funeral Home in Constantine, where Religous Services will be held Thursday at 1 pm. Burial will be in the Mottville Township Cemetery. Online messages may be left for the family at www.eleyfuneralhomes.com.