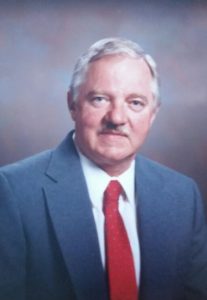 Harley C. Saidla, age 76, of Marcellus, passed away at home Friday, August 26, 2016 with his family by his side.
He was born May 10, 1940 in Kalamazoo, MI the son of Donald E. and Ruth (Sternberg) Saidla. On November 22, 1985 in Wakelee, MI he married Janice Kleinfelder who survives.
Harley graduated from Marcellus High School in 1959 and went on to serve in the United States Army during the Korean War. He was a life member of the Marcellus V.F.W. Post 4054 and previously served as Commander. He retired after 30 years as a carpenter for Upjohn Pharmaceuticals and also retired from the Marcellus Fire Department after 12 years of volunteering. He enjoyed fishing, hunting, bowling, yard work and tinkering in the garage. He wasn't one to sit still, he was always doing something. He loved his family and animals and was very patriotic.
Surviving besides his wife Janice, is one son, Derek (Niccole) Saidla of Schoolcraft, MI; two daughters, Connie Kubiak of Crown Point, IN and Dawn (Drew) Gearhart of Marcellus; four sibilings, Don (Sharon) Saidla of Mattawan, MI, Howard (Linda) Saidla of Arcadia, MI, Glenna (Ed) Marx of Hudson, FL and Marcia (Roger) Hutton of Constantine, MI; ten grandchildren, Chays, Dylan and Katie Gearhart, Lauryn and Aiden Saidla, Ryan and Brandon Myer, Justin Verbeek, Trevor and Brianna Kubiak and many nieces & nephews.
There will be a graveside memorial service at 1 PM Sunday, September 4, 2016 at the Marcellus Cemetery with a luncheon immediately following at the Marcellus V.F.W.
In lieu of flowers, memorials may be directed to the V.F.W. Post 4054, the Marcellus Fire/Ambulance Department or Reverence Home Health & Hospice.