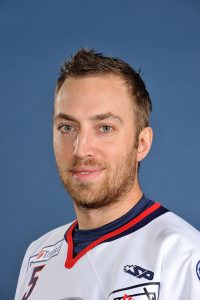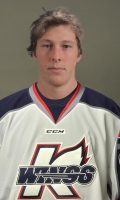 KALAMAZOO, MI – As the season inches closer, the Kalamazoo Wings roster continues to grow. Returning for another season with the K-Wings are defenseman Adam Phillips and forward Tyler Shattock and newcomers Chris Leone and Kyle Bushee, also defenseman.
Phillips and Shattock will be returning for their second season with the K-Wings.
Phillips played in 52 games last season, racking up nine goals and 12 assists. The 6'6' skater plays both forward and defense, when needed.
"He (Phillips) has a big shot and will continue to help our power play," K-Wings head coach Nick Bootland said. "He has tremendous skill for his size and he is flexible enough to play forward when called upon."
For his part, Phillips is comfortable playing either position. "I do like both," Phillips said. "I am comfortable playing both positions and with the long season comes injuries and call ups and sometimes we can be short bodies and I have no problem playing forward and doing what I can to help the team win"
In addition to bringing home the Kelly Cup, Phillips hopes to improve all around. "Continuing to improve our play and get to the next level is something all of us strive for," Phillips said. "But trying to help the team win is most important and I'm looking forward to getting the year started."
The K-Wings didn't really find their groove until late in the season, something Phillips hopes won't take as long this season. "I think as a team last year we learned how to win throughout the season," he said. "We didn't have the start we wanted but the second half everyone was putting everything on the line every night and the results were there. If we do that I think we will like how we end up'"
Phillips is excited to be back with the K-Wings.
"Kalamazoo is an awesome hockey community and a great organization and staff that wants to win. I enjoyed my time here last season and look to build off some of the success that we had and bring it into this season."
Shattock, last years captain, is entering his seventh season of professional hockey. The physical forward scored 14 goals and 21 assists in 59 games last season.
"His first half of the year wasn't ideal, but his last 20 games (15 points) were outstanding for us." Bootland said. "He had an injury in the second to last game of the season and his presence was greatly missed during the playoffs."
Shattock was a 2009 draft pick of the St. Louis Blues (round four, pick 108) and began his pro career in 2010 with the American Hockey League's Peoria Rivermen. "Tyler is a true power forward who plays the game fast and hard," Bootland added. "We plan to use him in all situations because his unique skillset is hard for opponents to offset."
Bushee is no stranger to the K-Wings. A native of Otsego, Michigan, which he still calls home, Bushee will be making his K-Wing debut this season.
" I'm excited," Bushee said. "Obviously being from the area and living here in the offseason, I'm proud to be from the Kalamazoo area and to represent a place I call home."
Bootland has been eyeing Bushee for a while. "He's a local guy who's been on our radar for a long time," Bootland said. "He's been a point-producing defenseman in this league and was always a thorn in our side as an opponent."
Bushee will be beginning his ninth season of pro hockey and has played in 468 ECHL games with five different teams, registering 45 goals and 126 assists for 171 points. He has also had stints in the American Hockey League, where he has played 22 career games, and Denmark, where he skated in 36 contests with the Aalborg Pirates during the 2014-15 season.
Playing against the K-Wings several times, Bushee said the team was always hard to play against and always seemed to find a way to win.
A series of conversations led Bushee to sign with the K-Wings. After he started working out with Mark Olson, who is also the K-Wings strength and conditioning coach, that got the ball rolling. He then talked with K-Wing players Joel Martin and Justin Taylor, which led him to Bootland. One thing led to another and Bushee signed a contract to play for his hometown team.
Bushee said he is a good skating, puck-moving defenseman with a wealth of experience. Most of all, he brings his desire to win.
"I just want to win," Bushee said. "Nothing would be better than winning a championship here."
Leone, 24, will begin his first full season a professional. If his name sounds familiar to K-Wings fans, he played one season with the Junior K-Wings during the 2011-12 season.
The native of Dearborn Heights, Leone made his professional debut against the K-Wings last season as a member of the Greenville Swamp Rabbits, where he had a goal and three assists in four games with Greenville.
"Chris wanted to return to Kalamazoo, and we are happy to have him," Bootland said. "He played part of his junior career here, and I got to watch him battle first hand while he was captaining the Jr. K-Wings. He is going to make a great addition to our blue line."
The K-Wings kick off the home portion of their 43rd season on Friday, October 21st as they take on the Fort Wayne Komets.
By: Mark C. McGlothlen