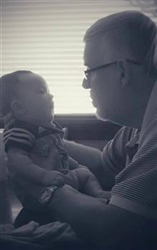 Mr. Phillip C. Dobyns, age 62, of Three Rivers, passed away on Thursday, August 25, 2016 after a courageous and hard fought battle with cancer.  Phil was born on April 12, 1954 in Kalamazoo, the son of the late Robert D. and Elva E. (McLean) Dobyns.
After many travels of life Phil then shared them with his wife, family and friends.  Phil is now completing his final journey knowing he will eventually share with his loved ones also.  He served his Lord spanning fifty plus years with the New Apostolic Church of Three Rivers and Kalamazoo.
Mr. Dobyns was a graduate of Glen Oaks Community College and received his Bachelor's from Western Michigan University with additional credentials as ISO 9000 QMS/EMS certifications as a Lead Auditor and Technical Manger/Trainer.  Phil's professional career spanned over forty years consisting of travel to numerous countries with Travel Accessories, Kysor Metal Products, Summit Polymers, Entela QSRD and Hartford Steam Boiler/ Registration Services.
Phil leaves to cherish his memory, his wife Michal (Akins) Dobyns, whom he married on May 2, 1975; three daughters, Ericka (Robert) Letcher, Michal (Jonathan) Rice, and Terra (Mike) Miller; seven grandchildren, Tylar Salter, Jon Rice Jr., Mitchal Rice, Jakob Salter, Allysen Miller, Amanda Letcher, and Kameren Miller; one great-grandchild, Eastin Trey; sister, Linda (Michael) Caffery; many several nieces and nephews and cousins and a host of close friends.
A memorial service will be held at 11:00 a.m. on September 10, 2016 at the New Apostolic Church 3600 W. Milham Ave., Portage, MI. 49024 with brother Peter Cook officiating.
Memorials may be directed to the New Apostolic Church for Senior Programs. Envelopes available at the Hohner Funeral Home in care of Phil's arrangements.