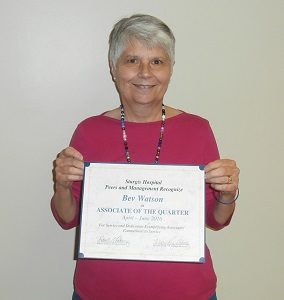 Sturgis Hospital named Bev Watson, as the Associate of the Quarter for the 2nd Quarter 2016.
Bev has been an employee of Sturgis Hospital for nearly 15 years and works in Patient Access Services.
She was nominated by coworker, Donna Nottoli who says:
"Bev is committed to her profession. She takes pride in her work, has an exemplary work ethic and is friendly to all she comes in contact with. She treats our patients with dignity, respect and compassion and will go 'above and beyond' for patient satisfaction. She has a gift to make people feel at ease. Bev also treats her co-workers with the utmost respect and is willing to float to any shift where she is needed. Numerous times she has come in on her scheduled day off or will work a shift in the middle of the night. Bev always puts the needs of our department before her own. I am honored to work with Bev and I believe many employees of our hospital feel the same way. 'Dedication' is Bev's middle name!"
This honor is given to a Sturgis Hospital associate who provides superior customer service and exemplifies a dedication to serve others in and out of the organization. The recipient of the award is given an award certificate and a $50 in Chamber Dollars, along with a designated preferred parking spot for the next quarter.