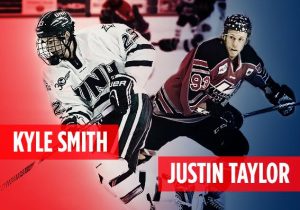 KALAMAZOO, MI – More familiar faces are returning as the Kalamazoo Wings 43rd season approaches. Forwards Justin Taylor and Lane Scheidl along with rookie forward Kyle Smith have signed on for the upcoming season.
Scheidl, 24, is returning for his third season with the K-Wings. Last season, Scheidl played in all 72 games, scoring 17 goals and 25 assists. During the span of March 13 through April 2, Scheidl scored 10 goals in 10 games.
"Lane was one of our most consistent players from start to finish last season," head coach Nick Bootland said. "He wants to continue to provide more offense and score more goals, but he's capable of contributing every night, even if he's off the score sheet."
Scheidl is eager for the season start. "I'm excited to be coming back for my third season in Kalamazoo," Scheidl said. " I feel like we have a good group of core guys here that want to win and take this team to the next level."
According to Scheidl, for the team to overcome last year's rough beginning, it starts with day one.
"I think it comes down to having a good training camp and building off that day by today to improve our club as a whole," he said. "Last season at the start we weren't strong enough offensively and I feel that is something we will focus on going into this season."
Scheidl has already pinpointed a few areas where he would like to see improvement. "Personally I want to contribute offensively more consistently and be a guy that Nick can rely on when we do need a goal or a change in momentum," he said. "I also want to step up more as a leader this season on and off the ice."
"As a team we need to be more consistent as a whole and not rely on Joel Martin so much. Hopefully we can stay healthier this season so we can do that to the best of our abilities," he said..
Another returning player, Taylor, echos Scheidl's comments.
"We need to come out of the gates running and we need to be more prepared," Taylor said. "Starting with training camp. Myself and along with other leaders on the team, we need to step up and set the bar of where we want to be at the end of the year. We need to learn from the season prior but it's behind us. I'm looking at this season and what I can do best for the team."
Taylor, 27, will be returning to the K-Wings for this sixth season. Last year, Taylor scored a career-high 26 goals in 70 games played. Taylor has solidified himself in Kalamazoo's ECHL record book, as he is the team's ECHL franchise leader in goals (105), and penalty minutes (542), while ranking second in total points (220) and games played (326).
"Justin is one of the premier shut-down forwards in the ECHL who we expect to play in every situation," head coach Nick Bootland said. "While battling for a playoff position down the stretch last year and needing someone to step up, it was Justin Taylor who did just that with 28 points in the last 27 games of the season."
Coming back for another season was a no-brainer for Taylor, who is set to become a first time dad in the early part of 2017. "It was an easy decision to come back to Kalamazoo and to be a K-Wing," Taylor said. "The city and the fans have been so good to me and my family. I enjoy the atmosphere and having family so close is always a nice touch. The big reason I am back is to win a championship. I believe in my coach to bring in quality players to help Kalamazoo win a kelly cup championship."
Smith, 24, comes to Kalamazoo after playing three games with the Manchester Monarchs last season. Smith joined the Monarchs at the conclusion of his four-year career at the University of New Hampshire (H-East), where he scored 34 points in 110 career games.
"Kyle Smith is an aggressive player with great character," Bootland said. "He does a lot of the little things right. He forechecks hard, gets to the goal, and is willing to get his nose dirty."
By: Mark C. McGlothlen