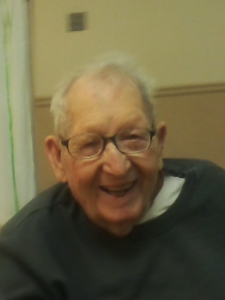 Robert Fellows, 94, of Centreville.
Whenever you asked Bob how he was doing, he always replied, "I'm still kicking".  Well, he departed Fairview Nursing & Rehabilitation on Friday, September 9, 2016 and now he's "still kicking" with his Savior Jesus.
Bob was born Charles Wright, in South Bend, Indiana, on 4-29-1922, to Harry and Florence Wright.  Five months later, he was given up for adoption and placed in an orphanage in Mishawaka, Indiana.  In May of 1923, he was adopted to Myron and Mae Fellows and his name was changed to Robert.  Bob grew up on the family farm on M-86, just outside of Three Rivers.  He graduated high school in 1940 and joined the Navy in October of that year.  He was honorably discharged in 1946.
He married Jeanne Young on 10-29-1949 in Angola, Indiana.  They moved to Wayland, and he went to work for Standard Oil.  He later went into business for himself and worked at various jobs until moving to Big Fish Lake in 1967.  He became a custodian at Centreville Schools and worked with his brother-in-law, Howard Young and his dear friend, Roger Hart.  He retired in 1985.
He is survived by his wife of 67 years, Jeanne, a daughter, Connie Harter of Centreville, a son, Bob (Sue) Fellows of Centreville, a grandson, Matthew (Sara) Fellows of Portage, a niece, Bonnie Smith and a nephew, Harold Pharoah, Jr.  He also leaves behind several adoptive nieces and nephews.
He was preceded in death by his birth parents, his adoptive parents, his birth brother Harold Pharoah, his birth sister Joan Smith, and his adoptive brothers, Lawrence Fellows and Richard Drumm and his adoptive sisters, Lois Howe, Ann Follis, and Marie Kritch.
In accordance with his wishes, there will be no visitation.  Graveside services will be held Monday at 3pm in Prairie River Cemetery, Centreville, with Pastor David Grimm officiating.  Arrangements were entrusted to Eley Funeral Homes, Inc.  Online messages may be left for the family at www.eleyfuneralhomes.com.