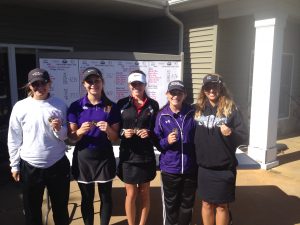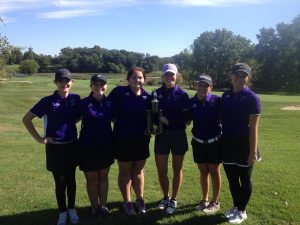 The Wildcat girls golf team took home the first place trophy for the Black division at the Sturgis Invitational held Tuesday at Island Hills Golf Club. Pictured with the trophy from left to right are Sara Haydon, Maddie Reus, Sydney Ruth, Cara Smith, Erin Taylor and Heidi Hines. Here are the team scores:
Three Rivers 404
Harper Creek 412
Coldwater 414
Marshall 418
Niles 476
The Cats also had 2 players receive medals for a top 5 finish. The top 5 is pictured left to right. 5th Amy Konkle 98 (Marshall), Heidi Hines 97 (Three Rivers), Claire Sheppard 93 (Coldwater), Erin Taylor 91 (Three Rivers) and Sydney Leatherman 86 (Harper Creek).
The other scores for the Cats were Sara Haydon 104, Cara Smith 112, Maddie Reus 115 and Sydney Ruth 140.
Next up for the team is a dual match with Hackett Catholic Prep at Milham Park Golf Course on Wednesday, followed by the Wolverine Conference Tournament Thursday at Angels Crossing Golf Club.
Bob Bales, PGA
TRHS