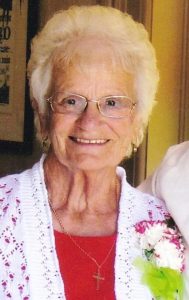 Ardith M. Forman of Mendon, went to be with the Lord on Saturday, October 1, 2016 after her battle with Pulmonary Pneumonitis. She was born at home on January 16, 1937 to J.C. and Francis Pence. She worked as a shipping clerk at Peterson Spring for nearly 30 years. Some of the many activities that she enjoyed were spending time with her family, traveling, hunting, gardening, feeding the birds, square dancing, and quilting. She is survived by her husband of 63 years Charles L. Forman; three children Charles(Gale Hall)Forman, Russ(Cathy) Forman, and Cindy (Ronald) Sears; siblings Mina Davis, Patricia Bagwell, (Norma Pence), (Harland Bennett); six grandchildren Joe, Jaime, Charlie, Katie, Jon, Corey; six great grandchildren and many nieces, nephews, and cousins. She was preceded in death by her parents J.C. and Francis Pence, siblings; Mildred Bennett, Maxine( George) Bartholomew, George (Eleanor)Pence, (Dennis Davis),(Cecil Bagwell).
The family will receive friends at Centreville Baptist Church, 115 Burr Oak St., Centreville, MI on Thursday October 6th, 2016 from 10am to 11am with a memorial service following immediately at 11am. Luncheon to follow at the church.
The family wishes that all memorial contributions be sent to Centreville Baptist Church.
Arrangements by Avink Funeral Home.