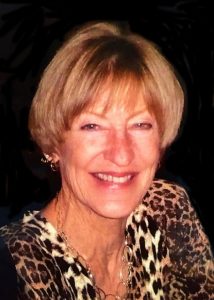 Janine Lenderink of Portage went home to be with her Lord on Saturday, Oct. 1, 2016, after a long battle with cancer. Janine was born on Nov. 20, 1948, to George and Dorothy (King) Jackson.
She graduated from Three Rivers High School in 1966 and attended Western Michigan University. She resided in White Cloud for several years and worked at the Probate Court for Newaygo County until she moved to Kalamazoo and was employed by the law firm of Howard and Howard as a legal secretary. In 1986, she married Andrew R. Lenderink who survives. After 13 years with the law firm, she became a realtor with ReMax of Kalamazoo and later transferred to Preferred Carlson, now Berkshire Hathaway Home Services. Janine was a wonderful person in many ways and was always there for her family and friends. She loved to garden and had a passion and talent for decorating. HGTV just lost their number one fan. Those who knew her loved her sense of humor, infectious laugh and smile. She will be forever in our hearts.
In addition to her husband, she is survived by a sister, Sue (Ted) Hicks and a brother, Jeff (Susie) Jackson of Three Rivers. Janine leaves three stepchildren, Mark (Pam) Lenderink of Kalamazoo, Laurie (James) Stamas and Michael (Heidi) Lenderink, all of Phoenix, Ariz., and six grandchildren. She has several nieces and nephews, Robin (Ray) Friel, Rebecca Weiderman, Renee (Jeff) Draime, Kristen Borst, Lisa (Scott) Karle and Craig (Lindy) Jackson all of Three Rivers. A memorial service will be held at 11 a.m. on Friday, Oct. 7 at Texas Corners Bible Church, 7780 South 8th Street, with Pastor David Thompson, officiating. Visitation will be prior to the service at church beginning at 10 a.m. A light luncheon will follow the service. In lieu of flowers, please make donations to The American Cancer Society, The Humane Society or a charity of your choice. Arrangements by Langeland Family Funeral Homes, Westside Chapel, 3926 South 9th Street. Please visit Janine's personalized web page for directions, online guest book or to leave a condolence. www.langelands.com.