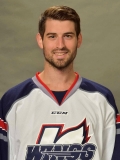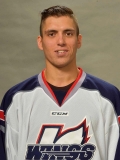 NORFOLK, VA – The Kalamazoo Wings opened their 43rd season with a pair of victories on the road this past weekend.
Starting the season on the road, the K-Wings traveled to Norfolk, Virginia to take on the Admirals.
Scoring a goal in each period, the K-Wings defense and goaltender Joel Martin shut the door on the Admirals, allowing just one goal to take the season opener by a score of 3-1.
Scott Henegar put the K-Wings on the board midway into the first period with his first career goal.
Much like the first period, the K-Wings scored their second goal of the game at the midway point of the middle period. After corralling the puck, Austin Wuthrich sent it to a wide-open Michael Trebish at the top of the circle. The new K-Wings defenseman whacked a slap shot towards the goal that a wide-open Dajon Mingo pushed into the net for the goal.
The Admirals scored in the first half of the final period as Josh Brittain was able to sneak the puck past a tied up Joel Martin to cut into the K-Wings lead 2-1.
Locking the game up later in the period, Trebish brought the puck through center and ahead to Josh Pitt. Pitt then sent the puck over the pad of Eetu Laurikainen and into the goal, giving Kalamazoo a 3-1 lead and eventual win.
The K-Wings outshot the Admirals 35-33 while neither team was able to capitalize on their power play opportunities
Looking for a weekend sweep on Saturday night, the K-Wings came out of the gate flying and never looked back as they shutout the Admirals 3-0.
Just over seven minutes into the game, Justin Taylor took a shot from the left-side boards that caromed off the body of Lane Scheidl and past Admirals' goalie Eetu Laurikainen for the 1-0 lead.
Just eight minutes later, Taylor, who was camped out behind the net, sent the puck to a waiting Ben Wilson, who sent the puck past the Admirals goaltender for a 2-0 advantage.
After a quiet second period, the K-Wings added to their lead as Trebish scored his first goal of the year.
Both teams were scoreless on the power play, with the K-Wings coming up empty on six attempts. The K-Wings outshot the Admirals 32-20. K-Wing netminder Nic Riopel earned his first shutout of the season, against his former team.
The K-Wings will host their 43rd home opener is this Friday, October 21 against the Fort Wayne Komets. Tickets are as low as $10 and gains you access to Fan Fest (located inside The Valley at Wings Event Center), which features food samples from Nick's Gyros and Sloppy's Food Truck, as well as craft beer samples, live music, and Top Shot games for all ages!
By: Mark C. McGlothlen