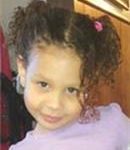 Kiyana Kyree McNeal, age 4, of Sturgis, passed away Sunday, October 23, 2016 at her home. She was born in Kalamazoo on January 30, 2012, a daughter of Jacey McNeal Wolkins and Gerald Johnson. Kiyana was her mom's shadow. She loved to sing and dance and loved learning new things. She was most recently learning to play the keyboard and guitar. She had the biggest love for all animals, but her dog, Marley, aka "Tippy Toes", was her favorite. She had even talked about wanting to become a veterinarian when she grew up. Kiyana was a happy daughter, sister, granddaughter, niece, cousin, and friend and will be greatly missed by all.
Surviving are her mother Jacey Mcneal Wolkins of Sturgis; father Gerald Johnson (Lorie May) of Ypsilanti; brothers Deven Wolkins and Hunter Wolkins; grandparents Denise and Randy McNeal of Gobles; uncle Shane (Rhonda) McNeal of Montpelier, IN; aunt Kristi Schmidt of Centreville; uncle Randy (Amy) McNeal of Lawton; and several cousins.
Relatives and friends will be received Thursday, October 27 from 2-4 and 6-8 pm at the Eley Funeral Home in Centreville. Services will be held on Friday, October 28 at 2 pm at the Fish Lake Bible Church in Sturgis. Interment will be in Prairie River Cemetery. In lieu of flowers, memorial contributions may be given to St. Joseph County Animal Rescue. Online messages may be left for the family at www.eleyfuneralhomes.com.