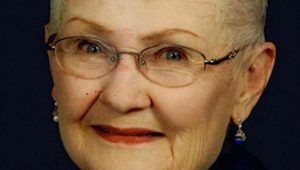 Mary Elizabeth Gard, 84, of Elkhart, passed away Tuesday, Oct. 4, 2016. She was born July 18, 1932 in Philadelphia, Pa., the daughter of Ralph Karstetter and Elizabeth (McDonall) Karstetter.
Survivors include her husband of 52 years, Russell E. Gard, of Elkhart, Ind.; three sons, Bob (Jonie) Irwin and David (Tari) Gard, both of Elkhart, Ind., and James (Jolene) Irwin of Oldsmar, Fla.; one daughter, Sara Jo (Graham) Broadwell, of Blanche, N.C.; nine grandchildren; seven great-grandchildren; several nieces and nephews.
In addition to her parents, she was preceded in death by her first husband, Robert Irwin, Sr.; brother, Ralph Karstetter and sister, Delores Deter.
Mary graduated from high school in Three Rivers. She went on to work at Chester Law Firm as a legal secretary and at Faith United Methodist Church as their secretary.
Over the years Mary was involved in many clubs and organizations including Delta Theta Tau Sorority, as member and past president; president and secretary of Elkhart General Hospital Women's Auxiliary,very active in the United Methodist Women's Group, United Methodist Age Ministry, Parents without Partners and the Mr. and Mrs. Club. She also was the secretary at various churches including Hillcrest United Methodist Church, Simpson Methodist Church and Faith United Methodist Church.
The family will receive friends one hour prior to the 4:30 p.m. celebration of life service on Monday, Oct. 10 at Faith United Methodist Church, 22045 C. R. 18, Goshen, Inde. Pastor John Hogsett will officiate.
Billings Funeral Home, 812 Baldwin Street, Elkhart, Ind., is entrusted with arrangements.
Memorial contributions may be made in Mary's memory to Harbor Light Hospice or Faith United Methodist Church.