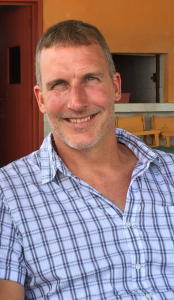 Mr. Ronald Lee Phillips, age 49, of Three Rivers, passed away tragically on Monday, Oct. 3, 2016 on a job site where he was working. Ron was born on Oct. 1st, 1967 in Kalamazoo, MI., the son of Mr. Gary and Linda Sue (Slater) Phillips.
Ron grew up in the Plainwell area where he graduated from high school in 1985. On August 11, 1990 Ron married the love of his life Cathy Daugherty in Paw Paw, MI. That same year, Ron and Cathy moved to Three Rivers. Later, Ron started Phillips Construction and then Phillips Tree Service.
Ron enjoyed working and tending to his property at Corey Lake. He cherished spending time with friends and family, especially his children and grandchildren. He was also a long time member of Corey Lake Nazarene Church. Ron was always willing to provide anyone with a helping hand and will be missed by all whom were touched by his generosity and kindness for others.
Ron leaves to cherish his memory, wife of twenty six years, Cathy Phillips of Three Rivers; daughter, Lindsey Phillips of Three Rivers; son, Jacob (Jordan) Phillips; of Three Rivers; parents, Gary and Linda Phillips of Three Rivers; brothers, Wade Phillips, Brad Phillips both of Three Rivers, and Kevin (Carrie) Phillips of Arizona; grandchildren, Ezra, Katherine, and Ava Phillips brother-in-law, Bob (Tina) Daugherty and two nieces and two nephews.
In accordance with family wishes cremation will be conducted.
Visitation will be held from 4:00 p.m. – 8:00 p.m. on Friday, October 7, 2016 at Hohner Funeral Home.
Memorial Services will be held at 11:00 a.m. on Saturday, October 8, 2016 at Corey Church of the Nazarene with Pastor Gary Carr officiating.
Memorial donations may be directed to the Grandchildren Trust c/o Cathy Phillips or Corey Church of the Nazarene. Envelopes available at the funeral home or church.
Online condolences may be left at www.hohnerfh.com.