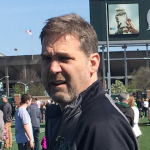 Brian L. Byler, age 47, of Constantine, passed away Tuesday, November 15, 2016, at his home. He was born in LaGrange, IN on June 8, 1969, a son of Ellsworth "Ozzy" and Evelyn (Miller) Byler. Brian graduated from White Pigeon High School in 1987 where he participated in Football. After high school, he attended Michigan State University where he received his Master Electrician degree. Brian travelled extensively across the United States doing electrical work after college. From 1996-2000, he worked as a Master Electrician at Pioneer. In 2000, he opened Byler Electric, in Constantine. On May 31, 2003, he married Brenda Lemon in Three Rivers. Brian enjoyed farming with his wife, mountain bike racing, and loved spending time with his family, especially his nieces and nephews.
Surviving Brian are his parents Ozzy and Evelyn Byler of White Pigeon, wife Brenda Byler of Constantine, brother Steve (Priscilla) Byler of White Pigeon, brother Eric (Cheryl) Byler of White Pigeon, sister Rhonda Byler of Sturgis, mother-in-law Rebecca Lemon of Constantine, sister-in-law Darcy (Jerry) Jones of Constantine, and nieces and nephews Zoe, Jack, Brody, Casey, Delaney, Emily, Lydia, Rachel, Elaina, Luke, Isaiah, Matthew, and Caleb. He was preceded in death by his father-in-law James Lemon.
Relatives and friends will be received Thursday from 2-7pm at Eley Funeral Home, Constantine. Religious services will be held Friday at 11am at Trinity Missionary Church in Constantine. Interment will be in Constantine Township Cemetery. Memorial contributions may be made to Goshen Center for Cancer Care. Online condolences may be left for the family at www.eleyfuneralhomes.com.