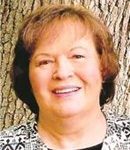 Rosemary Currier, age 72, went home to be with her Lord and Savior on Sunday, Oct. 30, 2016, at Borgess Medical Center in Kalamazoo, following an extended illness.
Rosemary was born Jan. 29, 1944, in Chicago, to James and Elizabeth (McDonnell) Hora. Rosemary moved from the Chicago area to Centreville at age 7. She graduated with the class of 1962. She met the love of her life, Paul Currier, and they wed on Nov. 17, 1963, at Burr Oak Missionary Church. Pastor Willis Woods officiated.
Rosemary worked in the banking industry, primarily as a mortgage lender for Citizens Bank and Bank One, but her true passion was taking care of her family, specifically their two children, Paul II and Lynette. She loved her family deeply and will be greatly missed. Rosemary was a member of Sturgis Wesleyan (now Radiant Life Wesleyan) Church. She helped for many years with the children's programs and loved to see kids come to know Jesus as their savior. She was a supporter of many global causes, including Feed the Children, World Vision, Samaritan's Purse and numerous others. Rosemary had a heart for missions and gave freely of her time, talents and resources to further the kingdom of God.
Rosemary is survived by her husband of almost 53 years, Paul; her son, Paul II (Katina) Currier; her daughter, Lynette (Bill) Ritchie; her grandchildren, Jacob Currier, Hannah Ritchie, Isaiah Currier and Jadealin Currier; her sisters, Barbara Hora and Maureen English; her uncle, Don (Mary) Hora; her brothers-in-law, Bill (Gaye) Currier and Sam (Cooky) Currier; her sisters-in-law, Mary (Jerry) Cronkhite, Elvina Williamson and Katie Brinkley; and many cousins, nieces, and nephews.
Preceding her in death are her parents; her mother and father in-law, Leo and Elizabeth Currier; her grandson, Benjamin Currier; her brother-in-law, Larry Fullbright; her brother-in-law and sister-in-law, John and Edna Currier; her brother-in-law, Henry Williamson; her sister-in-law, Beverly Currier; and two nephews, Richard Currier and Ken Williamson.
The family will receive friends from 2-4 p.m. and 6-8 p.m. Thursday at the Hackman Chapel of Hackman Family Funeral Homes, 114 S. Nottawa St., Sturgis. A celebration of Rosemary's life will begin at 11 a.m. Friday at Radiant Life Wesleyan Church in Sturgis. Pastors Doug Currier and Ryan Bibb will officiate. A graveside committal will follow the service at Oak Lawn Cemetery in Sturgis.
The family suggests those wishing to make a memorial donation in Mrs. Currier's memory consider the Radiant Life Wesleyan Church children's ministry, 907 N. Nottawa St., Sturgis, MI 49091; Samaritan's Purse, PO Box 3000, Boone, NC 28607; or World Vision, P.0. Box 9716, Federal Way, WA 98063.
Her obituary is also at www.hackmanfamilyfuneralhomes.com, where personal messages of support may be left for the family.