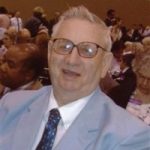 Richard Lewis "Dick" Dale, age 87, of Three Rivers, passed away on Thursday, Dec. 8, 2016, at Grace Healthcare, after many years of pain.
He was born June 4, 1929, in Michigan, a son of Cyril and Lauretta (Fisher) Dale.
Dick graduated from Constantine High School, where he was a member of the football and baseball teams. He was employed for more than 20 years as a commercial truck driver and also owned a bait shop at Long Lake.
On Oct. 15, 1994, he was united in marriage to Helen Kay Nothrop.
Dick was an avid outdoorsman and enjoyed hunting and trapshooting. He also was a skilled craftsman and built many homes and garages. He was a member of Three Rivers Kingdom Hall of Jehovah's Witnesses.
Dick was preceded in death by three brothers, Loren, Ray and Ron; former wives Patty Lions and Bonnie Mader, and Marge Dale.
He leaves to cherish his loving memory, wife of 22 years, Helen K. Dale; a daughter, Cindy (Doug) Monroe; sons Steve (Linda) Dale, Brad Dale and Brian (Angie) Dale; stepchildren Alan and Rick Nothrop, Rob (Nancy) Nothrop and Donette (Tony) Cooper; a sister, Juanita Diller; and many grandchildren and great grandchildren.
In accordance with family wishes, cremation was conducted. A memorial service will be held at 4:30 p.m. Wednesday, Dec. 14, 2016, at Kingdom Hall of Jehovah's Witnesses of Three Rivers.
Memorial donation may be directed to Kingdom Hall of Jehovah's Witnesses.
Online condolences may be left for the family at www.hohnerfh.com.