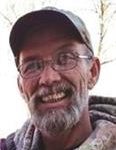 Jeff Jackson, age 50, of Colon, passed away unexpectedly at his home, Thursday, Dec. 1, 2016.
Jeff was born Dec. 30, 1965, in Elgin, Ill., a son to the late Clyde and Mildred (Fredericks) Jackson.
He had lived most all of his life in the Colon area, where he was a self employed carpenter.
On July 27, 1993, he married Michelle M. Wagner in Colon.
He enjoyed hunting and fishing and loved time spent with his grandchildren.
He is survived by his wife Michelle Jackson; children, Nate (Heidi) Jackson of Sherwood, Kayla Jackson and fiancé Derek Cole of Bronson, Maddison Jackson and fiancé Brad Penny of Three Rivers, Dalton Jackson and fiancé Meagen Prichard of Bronson; three grandchildren, Annabelle, Waylon and Arbor; three brothers, Michael Jackson of Hawaii, Douglas (Becky) Jackson of Sherwood and Craig (Shannon) Jackson of Sherwood; and several nieces and nephews.
He was preceded in death by a sister Cynthia Jackson.
A memorial service, celebrating the life of Jeff Jackson will be Wednesday, December 7, 2016, at 11 a.m. at the Schipper Funeral Home LTD. in Colon, with the Rev. David J. Farrell officiating. If desired memorials may be made in memory of Jeff to the family.