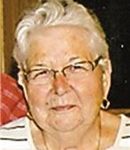 Betty Elaine Milliman, 86, of Burr Oak, passed away, with her daughters at her side, Monday, Jan. 16, 2017, at Heartland Health Care in Three Rivers, following an extended illness.
She was born Aug. 5, 1930, in California Township, a daughter of Francis Russell and Alice S. (Kelso) Brunner. She was a Burr Oak resident most of her life. She was a member of Burr Oak United Methodist Church, past member of The Eastern Star, Burr Oak Mothers Club, Popcorn Guild at Sturgis Hospital, a 4-H leader who taught cooking, and a Cub Scouts den mother. She enjoyed needlepoint and, most of all, time with her grandchildren.
She was manager of the Burr Oak school cafeteria for 28 years, making a positive difference in many children's lives. She retired in 1996.
On Sept. 16, 1950, she married William G. Milliman at Burr Oak United Methodist Church. He survives, along with two daughters, Kim Sikorski of Burr Oak and Lisa Lagrimas of Oroville, Calif.; a son, Todd (Mary) Milliman of Sturgis; two grandchildren, Chad Milliman and Halie (Matt) Logan; and a great-granddaughter, Adalyn Logan.
She was preceded in death by her parents; a son, William G. Milliman II; a brother, Dale Brunner; a half-sister, Jeane Brunner; a two stepbrothers, Robert and Dick Bucknell.
A memorial service will be held at a later date. Donations may be directed to Burr Oak Fire Department, P.O. Box 366, Burr Oak MI 49030; or Animal Rescue Fund of Three Rivers, P.O. Box 593, Centreville MI 49032. Envelopes are available at Farrand Funeral Home in White Pigeon, which is in care of arrangements.