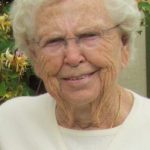 Beverly "Jean" (Caseman) Tuckey, 91, of Constantine and Newberg Township, peacefully departed this realm on Friday, January 20. 2017 at Woodland Terrace Senior Living in Niles, MI.
Jean was born May 4, 1925 in Union City , MI , to Frank and Fannie Mae ( Hull ) Caseman. She attended school in Constantine. In the early 1950's, she moved to Florida with her spouse at that time, Rex, and lived in Largo, Keystone Heights, and O'Brien.
She held various jobs while in Florida, but her main was as a mostly stay at home Mom. She did some farming work, helped start up a service station and tire business, and later became a school bus driver in Branford…a job she enjoyed immensely.
She married C.W. Tuckey on August 6, 1990 in O'Brien, Fl.
She enjoyed many activities, including gardening, camping, quilting, board and card games and taking rides around the areas she lived. She enjoyed bowling her entire life, and was a part of the senior ladies team at South Lanes in Three Rivers. In later years she enjoyed watching birds (especially hummingbirds!) and other wildlife from her porch and windows, and traveling by train to visit her daughter in WA, where they both enjoyed observing nature.
Surviving are her daughter Wanda L (Phil Jr.) Bender-Reser, Stanwood, WA., along with numerous Nieces, Nephews, Grand nieces and nephews, and cousins.
Jean was preceded in death by her parents, husband CW Tuckey, sisters Betty Adams/Carpenter, Vivian Leister/Willis, Gatha Knepple, and Donna Caseman, brothers Francis , Lloyd , and Dale Caseman.
In lieu of flowers, donations be made to the Alzheimer's Association , Greater Michigan Chapter.
Visitation will be held at Eley Funeral Home in Constantine at 1PM Friday, Jan.27th, flowed by service at 2 PM with internment at Constantine Cemetery. All Family and friends are welcome to attend both this service, and a Memorial service which will be announced at a later date.
Special thanks to the staff and caregivers at Woodland Terrace in Niles for their compassion and care while Jean resided there.