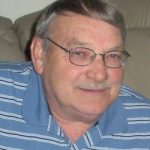 Harold F. Snyder, Junior, 68, of Three Rivers, and formerly of Goshen, passed away on Thursday, January 12, 2017 at his home.  He had struggled with heart failure the past eight years.
He was born on January 30, 1948 in Goshen, the son of the late Harold F. and Lucille (Culp) Snyder.
On July 1, 2000, he married June (Clark) Snyder in Three Rivers and she survives.
Junior was a 1966 graduate of New Paris High School.
Junior was employed by Coachman Industries, Middlebury for 30 years and later he worked part-time for Bontrager Salvage, White Pigeon, Michigan.  He enjoyed woodworking, gardening, fishing, and spending time with family and friends.  He attended Riverside Church, Three Rivers.
He is survived by his children, Julie (Rocky) Martin of Buchanan, Michigan, Randy (Sarah) Snyder of Bristol and Laurie (Glen) Yoder of Millersburg; eleven grandchildren;  two great grandchildren; two step-children, Allen (Dawn) Clark of White Pigeon and Yvonne (Jason) Crouch of Schoolcraft, Michigan; five step grandchildren; a brother, Duaine (Lyn) Snyder of Archbold, Ohio; a sister, Lois (William) Dickison of Kokomo; an aunt,  Esther (Ira) Hartman of Goshen; and three special nieces and a special nephew.
He was preceded in death by his parents and son, Gregory Alan Snyder.
Friends may call Tuesday, January 17, 2017 from 5-7 p.m., and one hour prior to the 11 a.m., Wednesday, January 18, 2017 funeral service, at Yoder-Culp Funeral Home in Goshen.  Pastor Jared Bryant, Riverside Church, will officiate.
Burial will be in Yellow Creek Cemetery, Goshen.
Memorial contributions may be given to Riverside Church, 207 E. Michigan Avenue, Three Rivers, MI 49093.