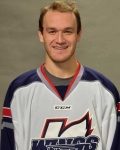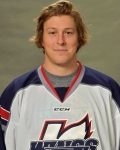 It took some last second heroics, but the Kalamazoo Wings (15-17-0-3) were able to come from behind to beat the visiting Tulsa Oilers (21-15-4-0) in overtime on Wednesday evening at Wings Event Center.
With the win, the K-Wings extended their win streak to four games.
In the first-ever meeting between the two teams, Kalamazoo and Tulsa spent most of the first period exchanging shots as Tulsa sent 12 to the net and the K-Wings 9. The goaltenders for both teams closed the door on any scoring opportunities as the score at the end of the period was 0-0.
Tulsa finally hit the scoreboard late in the second period. As they carried ahead on an odd-man rush, Tulsa's Emerson Clark dished the puck along to Miles Koules, who finished the play with a deke past Martin, sending the Oilers into the dressing room after 40 minutes ahead by a goal.
The K-Wings found their groove early in the third period. Tyler Biggs cleanly swept a faceoff back to Scott Henegar, who walked towards the middle and fired a wrist shot that picked the top corner of the goal. The goal by Henegar was his 11th of the season.
Ten minutes later, the Oilers regained the lead. A two-on-one rush to the net by Darcy Murphy and Miles Koules resulted in a goal by Murphy to give them a 2-1 lead.
With the Wings trailing by a goal and time winding down, Martin hustled to the bench for an extra attacker. Kyle Bushee slid the puck to Tyler Shattock at the left-side faceoff dot, and Shattock tucked a top-corner wrist shot over the shoulder of Phillips, tying the game with 34 seconds remaining.
Shattock's goal sent the game into overtime.
Less than a minute into overtime, Tanner Sorenson lifted the stick of a Tulsa defender, swiped the puck, and carried in alone on Oilers netminder Jamie Phillips. Sorenson pushed the puck over the glove of Phillips and earned the overtime winner, his second in as many games. The K-Wings won the game 3-2.
The K-Wings will host the Brampton Beast this Friday night, January 13, 7:00 p.m., Wings Event Center.
Notes: Kalamazoo have won a season-high four straight games…Sorenson has a team-leading four game winning goals… Henegar leads all Kalamazoo rookies with 11 goals and 13 points… Bushee is on a four-game point streak, which ties a season-high for a Kalamazoo Wings skater…It was the first-ever meeting between the Wings and Oilers… Kalamazoo are 4-0 in games that have been decided in a three-on-three overtime period.
By: Mark C. McGlothlen