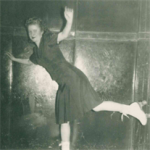 Lila E. Hunt, 95, of Niles, formerly of Dowagiac, passed away Thursday, January 5, 2017 at Westwoods of Niles.
She was born on June 23, 1921 to the late Walter and Cleora Phebus in Plymouth, Indiana.
On March 20, 1950 she married Alonzo D. Hunt, who preceded her in death.
Lila enjoyed decades of roller skating and reading magazines.
Lila is survived by her daughters Sue (Larry) Rigdon of Three Rivers and Alona (Ed) Bachman of Niles as well as several nieces and nephews.
Services for Lila will be Monday, January 9, 2017, 2:00 p.m. at Brown Funeral Home in Niles with visitation one hour prior. A private interment will follow the funeral at Riverside Cemetery in Dowagiac.
Those wishing to make a memorial donation in honor of Lila can be made to The Salvation Army.