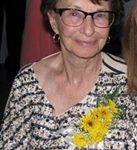 Lucille Carlsson, age 86, of Naples, Florida passed away on Monday, January 9, 2017 at Rose Arbor Hospice Residence.  Lucille, born on June 25, 1930, was the daughter of Egisto and Marie (Renes) Carrarini.  She was preceded in death by her loving husband, Lawrence A. Carlsson, Sr., her son Mark Carlsson, sisters Dolores Stern and June Winslow, and brother John Taylor.
Lucille loved gardening, cooking, reading, camping, watching  college football and spending time with her family.  She was known for her beautiful roses that once graced their first home. Reading was a major past time, being a long term member of several book clubs. This love of reading was passed on to her children and grandchildren who also seemed to have a book in hand. Her culinary skills, especially her baking, kept her children and neighbors' children stopping by for a treat. Whether at the lake or camping, she was always welcoming everyone's friends. Sleeping bags abounded, along with great food and laughter. Lucille only needed a red shirt and red hat to cheer for her children's collage teams. No favoritism, just go big red would work for any of them. Besides raising her six children, Lucille was a member of the women's auxiliary for professional engineers in Indiana and a community outreach group. She not only was giving of her time to raise her family but also to give back to her community. As a long term resident of Foxfire Country Club in Naples, Florida, she enjoyed golfing, dining out, and the beaches. She is sadly saying goodbye to all of her Naples friends.
Lucille leaves to cherish her loving memory daughters, Laurene A. Bolz (Philip) of Three Rivers, Michigan and Linda (Dennis DeLaura) of Naples, Florida; sons Lawrence (Rita) Carlsson, Jr. M.D. of Papillion, NE.; Randall (Debbie) Carlsson of Crown Point, IN, and David (Karen) Carlsson of Pueblo, CO; sister Marilyn Sabonis of Elk Grove, IL; 9 grandchildren and 14 great grandchildren; and many nieces and nephews.
In accordance with Lucille's wishes, cremation will be conducted. Friends will be received from 4-8 pm on Friday, January 13th, 2017, at Burns-Kish Funeral Home, 8415 Calumet Avenue, Munster, Indiana and a Mass of the Christian Burial will be celebrated at 10:30 am on Saturday, January 14th at Our Lady Of Grace Church, 3025 Hwy Ave, Highland, Indiana.