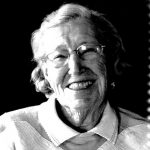 Barbara Ann Barton-Foltyn, age 87, of Three Rivers, died Friday, Feb. 24, 2017 at Grace Healthcare in Three Rivers. She was born in South Bend, on Oct. 4, 1929 the daughter of Harold and Margarete A. (Genschel) Brundige. Barbara was raised and lived most of her life in the Three Rivers, graduating from Three Rivers High School in 1948. She enjoyed raising her three boys through Cub Scouts, Boy Scouts, musical instruments, singing, and all their athletic activities. She helped her husband, Edwin and the three boys run Barton's Body Shop for many years. She especially enjoyed spending time with her grandchildren and great-grandchildren.
Barbara leaves three sons to cherish her loving memory, Bruce M. (Janice) Barton, Paul E. (Theresa) Barton, and Charles R. (Lucinda) Barton all of Three Rivers; a step-son, Harry (Diane) Foltyn of Millville, NJ; eleven grandchildren; twelve great-grandchildren; two brothers, Ken (Barbara) Brundige and Eugene (Kathy) Brundige.
She was preceded in death by her parents; two husbands, Edwin S. Barton and Frank Foltyn; sister, Arlene; three brothers, Richard, Don, and Dale Brundige; and a grandson, Bradley Keith.
The family will receive friends from 2 to 4 and 6 to 8 pm Tuesday at the Eickhoff Farrand Halverson Chapel in Three Rivers. Funeral services will be 11 am Wednesday, March 1, 2017 at the funeral home with Norm Stutesman, Chaplain of American Legion Post #170 officiating. Burial will be in Riverside Cemetery. Memorial donations may be directed to the American Legion Post #170. Condolences may be expressed to the family online at www.efhchapel.com