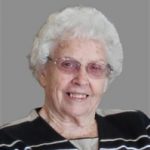 Lurlene Joy (Ketchie) Yandell, age 87, of Three Rivers passed away on Sunday, February 5, 2017 at The Birches in Leonidas. She was born on September 26, 1929 in Santa Monica, California the daughter of the late John and Ruby (McCarley) Ketchie.
Lurlene grew up in West Los Angeles, California, graduating from University High School. She married Robert (Bob) Yandell on September 20, 1946 after his military discharge at the end of WWII and they enjoyed 68 years together prior to his death in 2015.
Lurlene was a devoted wife, mother, and homemaker. Following Bob's retirement, the couple moved to Three Rivers to be near family. The highlight of their years in Michigan was enjoying their many great-grandchildren. "Grammy" was happiest with a baby in her lap. She loved her Lord, was a prayer warrior, and a member at Riverside Church in Three Rivers, MI.
Lurlene was preceded in death by her husband, Bob; parents, John and Ruby Ketchie; and two sisters, Naomi June Langford and Wanona Hardy. She leaves to treasure her memory two daughters, Linda (the late Charley) Poe of Layton, UT and Donna (Jim) Stuck of Three Rivers; 4 grandchildren, Lisa (Glenn) Brumley of Clinton, UT, Mike (Lori) Spurgeon of Littleton, CO, Laura (David) Posey of Centreville, MI, and Bryan (Nicole) Stuck of Richmond, TX; and 13 great grandchildren.
A memorial service will be held at Riverside Church (Riverview Room), 207 E. Michigan Ave., Three Rivers, at 11 a.m. on Thursday, February 9, 2017 with Pastor Paul Booko officiating. Family visitation will be available prior to the service and at the luncheon following.