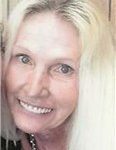 Susan Kay Jackowiak, age 59, of Sturgis, and formerly of Colon, passed away Thursday, Feb. 2, 2017, at her home, surrounded by her family.
Susan was born July 26, 1957, in Muskegon, a daughter of Hershel and Jessie Loretta (Martin) Dilts.
For 28 years, she had made her home in Colon, where she attended Colon Baptist Church, moving to Sturgis about six years ago. She was a homemaker and enjoyed shopping and spending time with her dog.
She had worked for nine years at Kmart as a manager and also as a caregiver at Froh Community Home and with home health care.
She is survived by her husband, John Jackowiak III of Sturgis; four children, Melisa Jackowiak of Fort Wayne, Ind., Nikki (David Jr.) Stevens of Bronson, Brittany Jackowiak of Sherwood and John Jackowiak IV of Colon; four grandchildren; her mother, Jessie L. (Dilts) Smith of Sturgis, a brother, Hershel Dilts of Coldwater; and several nieces and nephews.
The family will receive relatives and friends from 5-8 p.m. Monday at Schipper Funeral Home in Colon. Funeral services celebrating the life of Susan Jackowiak will be at 11 a.m. Tuesday, Feb. 7, 2017, at the funeral home, with the Rev. David J. Farrell officiating. Burial will follow at Sherwood Cemetery in Sherwood.
If desired, memorials may be directed to the family. Envelopes are available at the funeral home.