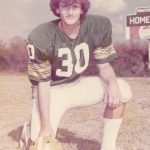 Brian Alan Wirick, age 56, of Three Rivers, passed away early Wednesday, March 8th, 2017. He was born on July 17th, 1960 in Dowagiac, MI. the son of the late Theodore and Martha (Keene) Wirick.
Brian was a roofer/journeyman by trade. In his spare time Brian loved to watch The Michigan Wolverines and the Detroit Lions play on the weekends. He also had a great love for technology and electronics. Brian loved being outdoors as well and spent numerous hours on the golf course or camping. He surrounded himself with a few close friends, Ed and Lynn Emborsky, Mike Wilma, and Roy Barnum. His greatest joy came from his daughters, watching his grandkids grow, and making those around him smile.
Mr. Wirick is preceded in death by his mother, Martha Keene, father Theodore Wirick, brothers, Doug and Ted Wirick, and sister, Vicky Wirick.
He is survived by his two daughters, Monica Wirick-Wilds (Tyler Wilds) and Anna Wirick, grandchildren, JT, Tyce, Mason and Kynlee. Nieces and nephews, Ivory, Chad, Robert, Tiffany, Andy, Tyler, Mariah, and Dylan. And several aunts and uncles.
In true Brian fashion his last hope for everyone is remember to "Don't worry and Bee happy!"
Per Brian's wishes no services will be held at this time and in lieu of flowers send donations to The American Heart Association and The Animal Rescue Fund of St. Joe County.