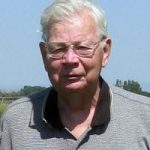 Martin Deloss Hammon of Mattawan died Friday, March 3, 2017 after living a long, eventful and rich life.
He was the first child of Lindsey Deloss Hammon and Clara Marie (Martin) Hammon, born Feb. 3, 1924 in a tent in a logging camp near Bonner's Ferry, Idaho. He said he was told it was a very sturdy tent with a wooden floor! Legend has it that he weighed 12 lbs. at birth and it was -40 degrees outside. The family moved frequently following the few jobs in hard times. His earliest memory is from living a summer at Mammoth Hot Springs in Yellowstone National Park while his father worked on roads. They eventually settled in West Branch, Mich. where he attended high school. He served in the Army during WW2 and was injured.
He met his wife Dr. Susanne Jacoby on March 4, 1949 about 2 a.m., when they both got stuck in a snowdrift in the road during a blizzard near South Haven. They married on March 16, 1951, settled in Constantine and raised three children, Barbara, Bob (Sharon) and Mike (Gail).
Martin graduated from WMU in 1956 followed by a career teaching high school chemistry and math. He taught in Constantine and Dowagiac where he is fondly remembered by many students for encouraging them to believe in themselves.
Martin had many interests and hobbies during his life, ranging from raising orchids to travel. He loved reading, discussions of history, science, philosophy, poetry, sports, and much more. He had a passion for fast cars and airplanes. He spent many summers working with local farmers and bought a small vineyard near Mattawan in the mid-1980s. He will be remembered as being intelligent, kind, and wise, but most of all, generous with his time and resources.
Besides his children, Martin is survived by his brothers, Dale (Delores) and Bruce; his sister, Jean; eight grandchildren, Doug (Moira), Steve, Emily (Joel), Jason, Keith, Josh (Irma), Chris (Justin), David; eight great-grandchildren, Lydia, Makayla, Austin, Taylor, Evelyn, Elizabeth, Scarlett and Mia; numerous nieces and nephews.
In lieu of flowers please consider contributions to Ministry with Community, 500 N. Edwards St., Kalamazoo, MI 49007. A Memorial service will be planned later. Family and friends may share a condolence message online at www.joldersma-klein.com.