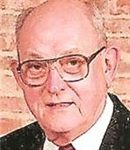 Earl A. Frohriep, age 88, of Sturgis, passed away late Thursday evening March 30, 2017, at Thurston Woods Village in Sturgis.
He was born Aug. 23, 1928, in Fawn River Township, a son of the late Emil L. and Luella (Diekman) Frohriep.
Earl was a lifelong Sturgis-area resident and a graduate of Sturgis High School with the class of 1956.
On Oct. 17, 1959, he married Doris Kessler in Sturgis.
Earl retired from Ross Laboratories in Sturgis following 10 years of dedicated employment. Prior to joining Ross Laboratories, he had been employed as general office manager by Affiliated Home Centers in Sturgis, and before that held the position of bookkeeper for the Ford garage, also in Sturgis.
He was a longtime member of Trinity Lutheran Church in Sturgis and a member of Neuman-Wenzel Post #73 American Legion. Earl enjoyed vegetable and flower gardening. The biggest joy in his life was his grandchildren. Earl could always be found in attendance at any of their many activities.
He is survived by his loving and dedicated wife of nearly 58 years, Doris; a daughter, Emily (Paul) Stemen of Sturgis; a granddaughter, Sara Stemen, at home; a grandson, Nathan Stemen, a student at University of Dayton in Dayton, Ohio; a sister, Elenora Emerson of Sturgis; and many nieces and nephews.
He was preceded in death by his parents; three sisters, Elta Werkentine, Esther Batten and Eva Schaeffer; three brothers, Paul Frohriep, Archie Frohriep and Arnold Frohriep; and a nephew, Richard Batten.
The family will receive friends from 2-6 p.m. Sunday at the Hackman Chapel of Hackman Family Funeral Homes, 114 S. Nottawa St., Sturgis.
Funeral services celebrating the life of Earl A. Frohriep will be held at 11 a.m. Monday at Trinity Lutheran Church in Sturgis. The Rev. James Balzer will officiate. A graveside committal will follow the service at Oak Lawn Cemetery in Sturgis. Full military honors will be conferred by Capt. John J. Kelley Post #1355 VFW and the U.S. Army Honor Guard.
The family suggests those wishing to make a memorial donation in Mr. Frohriep's memory consider Trinity Lutheran Church, 406 S. Lakeview Ave., Sturgis, MI 49091; St. Joseph County United Way, c/o Sturgis Community Pool, P.O. Box 577, Centreville, MI 49032; or Thurston Woods Village, 307 N. Franks Ave., Sturgis MI 49091.
His obituary is also at www.hackmanfamilyfuneralhomes.com, where personal messages of support may be left for the family.