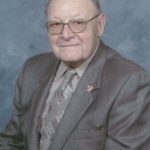 John W. Yearling, age 94, passed away at Bowman Place in Three Rivers on Friday, April 14, 2017. John was born on August 10, 1922 in Centreville, to Harry and Blanche M. (Worthington) Yearling. He was raised in Centreville and graduated from Centreville High School in 1940. He married Doris Hagen on June 30, 1941. She predeceased him in March 2004. John and Doris moved to Three Rivers in the early 1950's.
John served in the U.S. Navy during World War II. He was elected honor man of his company while at the Great Lakes Naval Training Center. He attended engineering schools in Chicago, New York, and Seattle. John was an Engineering Petty Officer aboard two destroyers during the War.
For twenty-five years John was treasurer and general manager of Three Rivers Builders. He left that position to become Vice President and Chief Loan Officer of Three Rivers Savings & Loan from which he retired in 1985.
John was very active in local organizations. He was president of the Three Rivers Junior of Chamber of Commerce, President of the Michigan Savings and Loan League, President of the Pleasant Lake Association and President of the Three Rivers Lions Club. He recently received the Lions Club Circle Award for over 64 years of dedicated service. He was a member of St. Peter's Lutheran Church and served as President on several occasions. He was also a member of the Three Rivers Area Chamber of Commerce, a member of the American Legion Hice-Shutes Post #170, and VFW Post #3019 in Three Rivers. John was awarded life membership in the International Lions Club in 1990 and was elected Lion of the Year in 1995-1996 and received the Melvin Jones Fellow Award from the International Lions Club in 2001.
John enjoyed hunting, fishing, golfing, vegetable gardening, and travelling. Doris and John travelled extensively in the United States and the world. He also looked forward to his annual Canadian fishing trip with his son, Jerry and friends.
John is survived by four children, Sandra French of Greenville, Mi., Jerry Yearling, Three Rivers, Suzanne Reed of Caro, Mi., and Laurie (Bob) Smith of Vicksburg. Also surviving are twin sisters, Jane Lints, of Mendon and Jean Avery, of Sturgis. He is also survived by five grandchildren, Christine Hamlin, Sana (Willis) Gaffney, Jennifer (Michael) Dentler, Eric (Katherine) Smith and Sabrina (Matt) Lear; fifteen great grandchildren, four great-great grandchildren and several nieces and nephews. In addition to his wife, he was predeceased by one brother, Donald Tesman, one sister, Charlene Lytle, a son-in-law Daniel French, and grandson, Steven French.
At John's request, cremation has taken place. The family will receive friends from 6:00 p.m. – 8:00 p.m. on Friday, April 21st at the Hohner Funeral Home on Arnold St in Three Rivers. A memorial service will be held on Saturday April 22 at 11 a.m. at St. Peter's Evangelical Lutheran Church on Arnold St. in Three Rivers with family greeting friends at 10:00 a.m. Military honors under the auspices of the American Legion Hice-Shutes Post will be held immediately following the service. Internment of the ashes will be at Prairie River Cemetery in Centreville.
The family would like to thank the staff at Bowman Place and Great Lakes Caring Hospice for the excellent care John was given. Memorials may be given to St. Peters Lutheran Church, Great Lakes Caring Hospice, Bowman Place or charity of the donor's choice. Online condolences may be shared at www.hohnerfh.com.