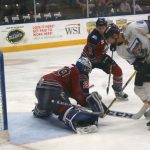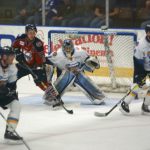 The Kalamazoo Wings jumped out to a 4-1 first period lead and never looked back as they defeated the Toledo Walleye 8-5 in Game Four of the best-of-seven Central Division Semi-Finals on Wednesday night.
The K-Wings were victorious on Tuesday night as they took Game Three by a score of 6-4. Peter Schneider netted the hat trick for the K-Wings.
Picking up where they left off on Tuesday night, the K-Wings jumped out to an early 1-0 lead as Josh Pitt scored his first goal of the postseason just over six minutes into the opening period. The goal by Pitt was scored on the power play.
Just under two minutes later, the K-Wings struck again, this time Brian Hart was able to sneak the puck past Walleye goaltender Jake Paterson for a 2-0 lead.
Tyson Spink scored a power play goal of his own minutes later, to cut the K-Wings lead in half.
Regaining their lead later in the period, the K-Wings Cameron Darcy notched his second of the series to give the K-Wings a 3-1 lead.
Before the K-Wings fateful could take their seats, Scott Henegar scored his first of the playoffs just 16 seconds after the Henegar goal for a 4-1 lead. The Walleye pulled their goaltender and replaced him with Jeff Lerg.
The scoring continued into the second period as Peter Schneider and Eric Kattelus scored goals for the K-Wings and Alex Globke added one for the Walleye for a 6-2 K-Wing lead after 40 minutes of play.
Storming out of the gates in the third period, the Walleye were determined to show the small, but spirited K-Wing crowd that they were still in the game.
Just 1:11 into the final period, Kyle Bonis netted his fifth of the series, a power play goal, to cut the K-Wings lead to 6-3.
Tylor Spink, with an assist from his twin brother Tyson, scored a power play goal six minutes later to narrow the K-Wings advantage to 6-4.
Continuing to chip away at the K-Wings lead, Landon Oslanski scored to make it a 6-5 game.
Hoping to slow the momentum of the Walleye, Pitt scored his second of night later in the period to give the K-Wings a two goal lead.
Pitt ended the night scoring an empty net goal to give him the K-Wings second hat trick in as many nights and secure their 8-5 victory.
The two teams meet again this Friday night in Toledo for Game Five. The series will swing back to Wings Event Center on Sunday for Game Six with game time set for 3 pm.
By: Mark C. McGlothlen
Photos provided by Darlene Ferrari