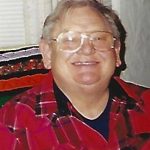 R.J. Edington, age 80, of Three Rivers passed away on Thursday, April 20, 2017 at Heartland Healthcare Center. He was born on January 23, 1937 in Little Rock, AR the son of R.E. and Roxie (Holbert) Edington.
R.J. served in the U.S. Army until his honorable discharge in 1957. He was united in marriage in to Polly Ann "Frankie" Williams on June 13, 1999. R.J. was a member of the Grace Apostolic Church of White Pigeon. He enjoyed farming and tending to his animals, taking walks, spending time with family and friends, and his beloved German Shepherd, Bonnie.
R.J. was preceded in passing by sisters, Bonnie, Eunice, and brother, Larry.
R.J. is survived by wife, Polly "Frankie" Edington; step daughters, Libby Thompson, Betsy Thompson, and Nikki Fitzgerald; sisters, Irene, Betty, Wanda, and Shirely; eight grandchildren and many great grandchildren; many nieces and nephews.
The family will receive friends from 10:00 a.m. until time of funeral services beginning at 11:00 a.m. on Monday, April 24, 2017 at Hohner Funeral Home with Pastor Jason Proffitt officiating. Cremation will be conducted following services and interment of cremains will be held at a later date at Fort Custer National Cemetery.
Memorial donations may be directed to Alzheimer's Association. Envelopes available at Hohner Funeral Home in care of arrangements. Online condolences may be shared for the family at www.hohnerfh.com.