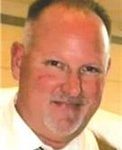 Larry Ray Aldrich, 56, of Saranac, and formerly of Constantine, died April 15, 2017, in Ionia County, from injuries sustained in a motorcycle accident.
He was born Feb. 1, 1961, in Sturgis, a son of Donald R. and Irene E. (Sheets) Aldrich.
A graduate of Constantine High School in 1979, he played tackle on the football team and was on the track team. He graduated in 1981 from Ferris State University, where he also was on the track team.
He was a resident of Saranac for the past four years, coming from Wayland. He also lived in Salt Lake City and San Francisco. He was employed as warranty manager for Star Truck Rentals in Grand Rapids for the past five years. He was a member of the Eagles lodge, and an assistant football coach at White Pigeon High School and Hackett Catholic Central High School. He enjoyed hunting, his dogs and his motorcycle.
Surviving are two sisters, Linda (Kenneth) Linn of Interlochen and Bobbie Jacobus of Eules, Texas; a brother, Ron (Sandy) Aldrich of Kalamazoo; a stepsister, Robin Haminga, and a stepbrother, Rendall Neice; and several nieces and nephews. He was preceded in death by his parents.
Graveside services will be at 11:00 Saturday, June 3, at White Pigeon Township Cemetery. A celebration of his life will follow from 1-5 p.m. at the VFW hall in Sturgis.