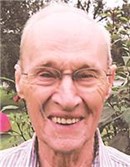 Edward Russell Miller, age 92, of Sturgis, passed away Friday morning, June 29, 2018 at his home.
He was born Nov. 27, 1925, at home, a son of the late Noah A.E. and Sarah (Miller) Miller.
Ed resided most of his life in the Sturgis area. On Aug. 3,1950, he married Beverly Alberta Ailes in Sturgis. She died March 28, 2007.
In 1991, Ed retired from General Motors Corporation following many years of dedicated employment.
Ed was one of the very few who completed his college education prior to graduating from high school. He graduated from electrical school and later earned a GED.
He was a member of Sturgis Foursquare His House Church and St. Joseph County Sportsman and Conservation Club. Ed had a love of the outdoors, hunting, fishing, gardening, yard work, caring for his home and woodworking.
He is survived by two daughters, Theresa Miller Outman and Julia (Tim) Hahn, both of Sturgis; a granddaughter and great-grandchildren; two sisters, Clara Grubert of Elkhart, Ind., and Lydia (Frank) Schragg of Centreville; two brothers, Reuben (Sophia) Miller of Three Rivers and Wilbur Miller of Gobles; and many nieces and nephews.
He was preceded in death by his parents; his wife; a sister, Kathryn Miller; and two brothers, Levi Miller and Melvin Miller.
The family will receive friends from 4 to 6 p.m. Monday at the Rosenberg Chapel of Hackman Family Funeral Homes, 807 E. Chicago Road, Sturgis. Funeral services celebrating the life of Edward R. Miller will be held at 10 a.m. Tuesday at Sturgis Foursquare His House Church, 410 S. Clay St., Sturgis. The Rev. Doug Carr will officiate. A graveside committal will follow the service at Oak Lawn Cemetery in Sturgis.
The family suggests those wishing to make a memorial donation in Mr. Miller's memory consider St. Joseph County Conservation Club, P.O. Box 252, Centreville, MI 49032; or American Cancer Society, P.O. Box 22718, Oklahoma City, OK 73123.
His obituary is also at www.hackmanfamilyfuneralhomes.com, where personal messages of support may be left for the family.