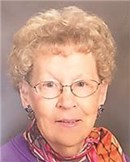 Louise Hassinger, age 99, of Constantine, died on Monday, June 18, 2018, at Bowman Place in Three Rivers.
She was born July 17, 1918, in Henderson, Ky., a daughter of Joseph and Laura Catherine (Gabe) Dickens.
Louise moved with her family to South Bend, and graduated June of 1937, from Central High School in South Bend.
In 1939, Mary Louise, aka Louise, married George N. Becktold in South Bend. Louise and George started their married life in Mishawaka, and had two children, George E., born April 26, 1940, and Judy Ann, born Sept. 22, 1941.
Louise's first husband (George) and daughter tragically lost their lives on July 20, 1946 in an auto/train accident in Bristol, Ind.
Louise then cared for her son, George, for many years while living in Mishawaka and worked at OBrien's Paint Spot in South Bend.
In 1964, Louise married John N. Hassinger and moved to Constantine. She continued her 28-year career at OBrien's and commuted daily from Constantine to South Bend to work and continue to care for her son, George, until his death Jan. 11, 1984.
Louise resided in Constantine and Three Rivers during the latter years of her life. She was a member of Three Rivers Immaculate Conception Church. She greatly enjoyed reading, playing cards, traveling and traveled to China, Scotland and Hawaii. She especially loved to go bowling in Three Rivers and continued to bowl until the age of 97.
Surviving are several nieces and nephews.
In addition to husband George and children George and Judy Ann, Louise was preceded in death by her parents; brothers Paul, Charles, Joseph, Thomas and Douglas Dickens; and sisters Francis Dickens, Gladys Black and Benita Schultz.
Relatives and friends will be received 6 to 8 p.m. Sunday at Eley Funeral Home in Constantine.
Graveside services will be held at 11 a.m. Monday at Fairview Cemetery, 1415 N. Main St., Mishawaka, Ind., with Father Antony Rajesh officiating.
In lieu of flowers, memorial contributions may be directed to Bowman Place, Three Rivers.