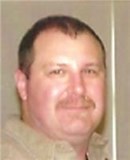 Christopher M. Thornton, 56, of Battle Creek, died on Thursday, July 5, 2018, doing what he loved, riding his Harley-Davidson motorcycle.
Chris was born in Battle Creek. He graduated from Sturgis High School in 1979. Chris went on to start and run his own trucking company and loved to be on the open road. He was a free spirit who, when not working, was riding his motorcycle through much of the United States.
Chris is survived by his two sons, Christopher and Matthew; his father, Gerald (Linda) Thornton; his mother, BJ (Jim) Lisko-Green; brothers Mark and Gabriel (Tracey); a sister, Germaine (Ed); nieces Kirby, Shelby, Jamie and Leah; and a nephew, Ed.
Visitation will be held from 11 a.m. to noon on Wednesday, July 11, 2018, at Bachman Hebble Funeral Service in Battle Creek. A memorial service will follow at noon at the funeral home. Arrangements by Bachman Hebble Funeral Service. Online: www.bachmanhebble.com.