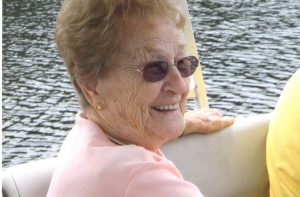 Dorothy A. Arnold Sult, age 102, of Constantine, passed away on Saturday, July 28, 2018 at her home. She was born in Nappanee, IN on May 25, 1916, a daughter of Grover and Estella (Sechrist) Wyman. Dorothy attended schools in Nappannee. On August 10, 1932, she married Stanley Arnold. He preceded her in death on May 4, 1988. She later married Walter Sult on July 11, 2001. He preceded her in death on September 19, 2014.
Dorothy previously worked on the family farm, as a nurses aid at Three Rivers Hospital, Continental Can, and at River Forest Nursing Home. She attended Centreville Baptist Church.
Surviving Dorothy are her children Beverly (Larry) Slaughter of Elkhart, Carole (Paul) Schumacher of White Pigeon, June Breth of Constantine, and William (Ann) Arnold of Constantine; step children Mary Alice DeRoche of Florida and Robert Sult of Three Rivers; 17 grandchildren; 29 great grandchildren; and 21 great-great grandchildren.
She was preceded in death by her parents, husbands, sons James, Richard, and Ronald Arnold, son-in-law James Breth, daughter-in-law Phyllis Arnold, and step-son Ronald Sult.
Relatives and friends will be received Thursday, August 2 from 5 to 8PM at Eley Funeral Home, Constantine. Religious services will be held on Friday, August 3, at 11AM at Messiah Lutheran Church in Constantine with Pastor Dave Peterson, Centreville Baptist Church, officiating. Interment will occur in Constantine Cemetery. Memorial contributions can be made to the Constantine Food Bank or to Centreville Baptist Church. Online condolences may be left for the family at www.eleyfuneralhomes.com.