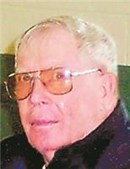 Earl John Mock, age 91, of Burr Oak, passed away Monday, July 30, 2018 at his home after several months of failing health.
Earl was born Dec. 11, 1926, on the family farm in Bronson, a son of the late John Homer and Clara F. (Leverence) Mock.
He had lived most of his life in rural Burr Oak, graduating from Burr Oak High School with the class of 1944. He was a local farmer and raised beef cattle and hogs. He had also worked for Sturgis Grain and Burr Oak Co-Op.
Earl had served in the U.S. Army during the Korean War.
He is survived by a sister, Maxine M. Mock of Burr Oak. He was preceded in death by a brother, Clare A. Mock in 2017.
The family will receive relatives and friends from 3 to 6 p.m.Thursday, Aug. 2, 2018, at Schipper Funeral Home in Colon. Funeral services celebrating the life of Earl John Mock will be at 1 p.m. Friday, Aug. 3, 2018, at the funeral home, with the Rev. David J. Farrell officiating. Burial will follow at Burr Oak Township Cemetery.
If desired, the family suggests memorials be made in memory of Earl to either Sturgis Hospice or the charity of one's choice .