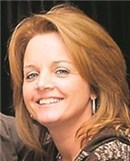 Jamie Larae (Ritchie) Jourdan, age 50, of Centreville, and formerly of Rome City, Ind., died Sunday, July 29, 2018, as the result of an auto accident near Schoolcraft.
She was born Sept. 13, 1967, in Kendallville, Ind., to Estill "Audie" and Joy (Fugate) Ritchie. They survive in Rome City.
On April 7, 2006, she married the love of her life, Bill Lee Jourdan in Centreville. He survives in Centreville.
Mrs. Jourdan had lived in Centreville since 2004, coming from Rome City. She worked as a graphics technician at Coachmen Industries in Middlebury.
Jamie enjoyed scrapbooking. She dearly loved being with family, especially her grandsons.
Also surviving are three daughters, Lacie Shepherd of Rome City, Chelsea (Chris Chapman) Burton of Sturgis and Logan Jourdan of Centreville; a son, Ryan S. (Alivia Heffner) Miller of Elkhart; two grandsons, Cace Austin Shepherd and Oliver Thomas Chapman; two brothers, Lonnie (Robin Jordan) Ritchie of Wolcottville, Ind., and Thomas Scott (Sonja Klemm) Ritchie of Rome City; a niece, Jessica (Chuck Stambaugh) Certain of Fort Wayne, Ind.; and her mother-in-law, Sheryl (Michael) Benjamin of Sturgis.
She was preceded in death by her father-in-law, James Jourdan Sr.
Funeral services will be at noon Friday, Aug. 3, 2018, at Bethel Christian Baptist Church, 2838 East Highway 6, Kendallville, with Pastor Shawn Shepherd officiating. Burial will be in Orange Cemetery, Rome City.
Pallbearers are Ryan Miller, Lonnie Ritchie, Scott Ritchie, Joe Ackerman, Ronnie Jordan, Marc Terrell, James Jordan Jr., Roger Prater and Kenny Barden.
Calling will be from 2 to 8 p.m. Thursday, Aug. 2, 2018, at the church and one hour prior to the service on Friday.
Preferred memorials are to the Jamie Jourdan memorial fund for the benefit of her grandsons.
Young Family Funeral Home, Wolcottville Chapel, Wolcottville, Ind., is assisting the family with arrangements.
View a video tribute after Thursday or share memories and condolences at www.youngfamilyfuneralhome.com.